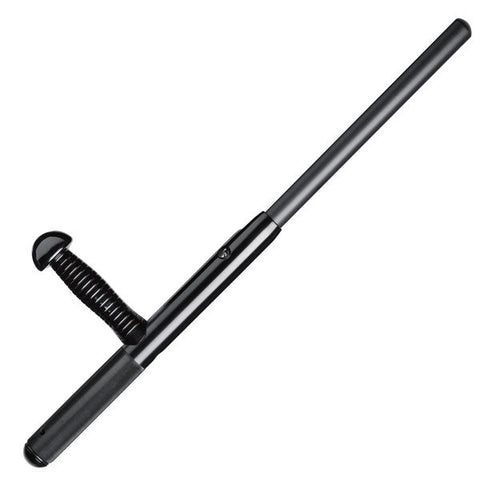 Monadnock Expandable PR-24 Baton w/Thumbull Stop Handle
MON1101
Monadnock Expandable PR-24 Baton w/Thumbull Stop Handle:
This PR24® side-handle baton offers maximum protection. It is the most field-tested baton for blocking, controlling and striking. The expandable design is combat ready with a flick of your wrist and closes easily with the push of a button. The Model 1101 has a knurled grip for enhanced baton retention and a palm grip side-handle. It also features the Trumbull Stop for increased baton retention. Aluminum frame with polycarbonate shaft. Color: Black. Made in USA
Excellent product
My father carried this model on patrol as a police officer. I work armed security and I did not like the absence of the side handle with the expandable baton I was provided with. Once cleared, I obtained this baton and I am very please with it.
Great Weapon
I practice Filipino martial arts and used to use an older model of the expandable PR24 while training. This one feels a lot better compared to the one I previously used.
Did some light sparring and this PR24 holds up very well and feels really good.
I would definitely recommend this product.
Great Product
This Baton is amazing. I have always wanted a Pr24 and to have it as an expandable version made it even sweeter. This product is solid and the price was great.
Great product
I love the multi use capacity of the PR24 with the compactness of the X or expandable.
Not quite what I was expecting
It's much bulkier that it looks in the pictures, and I would recommend shortening the length (by about an inch and a half) and the overall shape of the handle, as far as reliability it has expanded every time and is easy to put back