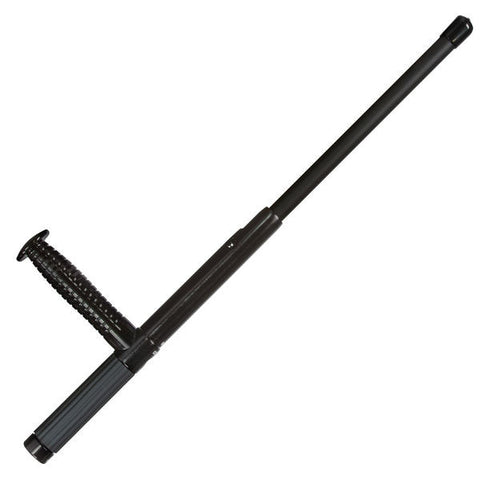 Monadnock Expandable PR-24 Baton
MON1121-CD21
Monadnock Expandable PR-24 Baton:
This Monadnock expandable PR-24 style baton is constructed of high strength aluminum with a ribbed rubber handle. The PR-24 baton is the most field tested and iconic of all protective devices. PR-24's are known for their defensive use just as well as offence. If utilized correctly this baton is superb for blocking & protection against various attacks. This innovative baton extends with just the flick of the wrist and retracts by pushing a button to unlock and manually closing the baton.

The Monadnock Control Device Side-Handle Baton Extends to 21 inches. It is made in the the USA
Good compact usage
Carries well and compact. Deploys quickly and can be used like any standard PR24. Easy to take back down.
Concerned about shipping as the package was shoved into an ill fitting box that broke the packaging. If the baton wasn't such a tough product I'd be concerned about it being bent to fit the box.
One convincing piece of equipment that
This is a durable weapon, that convinces people that you are a true businessman, while enforcing the law.
love it but
I prefer the plastic 1 i had before. This one is a little heavier. I have to get used to it. Def more durable than the old 1 i had
Chief Daniel Gray, Grays Guardian Protective Services
The PR 24 is very good and usable. Thank you Baton warehouse