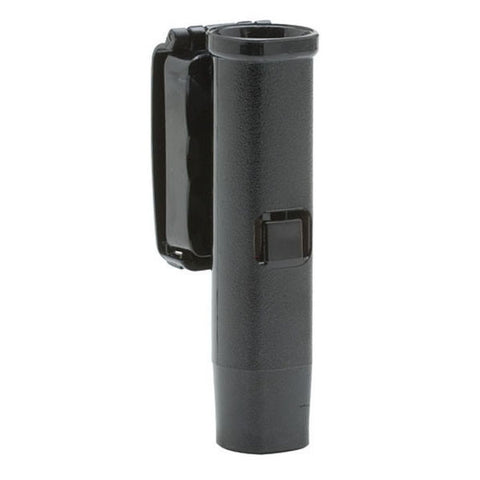 Monadnock Front Draw® 45° Locking Clip-On Baton Holder for AutoLock® Batons
MON3042/L
Monadnock Front Draw® 45° Locking Clip-On Baton Holder for AutoLock® Batons:
The Monadnock Front Draw® 45° Baton Holder is specifically designed for AutoLock® Batons. It locks the baton in at a 45 degree angle. When in the locked position, The baton is able to be re-holstered whether open or closed. The baton holder is clip-on and is crafted of a durable polycarbonate. 
The Monadnock Front Draw® 45° Baton Holder comes in two colors: Basketweave Black and Plain Black. The Monadnock Front Draw® 45° Baton Holder comes in 4 sizes for each size of AutoLock® batons: 18 inches, 21 inches, 22 or 26 inches, and fit for 26LC (low carry). 
16 or 18 Plain Black- 1000235
16 or 18 Basketweave Black- 1000278
21 Plain Black- 1000220
21 Basketweave Black- 1000272
22 or 26 Plain Black- 1000225
22 or 26 Basketweave Black- 1000275
26LC Plain Black- 1000238
26LC Basketweave Black- 1000280
Good at best
just received the holder,Very pleased with the product, looks very flimsy. So I hope it holds up.
No Better Options
These holders are over priced to begin with ($30 for a piece of plastic). Once you own the autolock, you have basically no choices but to purchase their holder once yours fails, which the belt clip on mine (just snapped off and holder fell on the ground) did after about 1.5 years of duty use. Safariland only warranty's it for 1 year, and would not do anything for me except list some dealers. Batonwarehouse sent me the wrong holder (they sent the 360 degree version instead of the 45 degree version I ordered), which was apparently the result of a mislabeled shipment from Safariland. That said, Batonwarehouse was immediate with a reply to my complaint and advised they were shipping a correct holder (low carry basket weave for a 26" autolock), out to me with a prepaid shipping label to send the other one back.
Ultimately I think the holder is overpriced and am disappointed in the quality of the belt clip (should not be as flimsy as it is), but I can't find another Brand's holder for this baton, or I'd try something else. Batonwarehouse was among the cheapest I could find and has provided good customer service and expedient shipping. Maybe you'll have a better overall experience with the product. I personally believe the 26" Monadnock Autolocking baton is a good tool, but kind of bulky (long) and expensive.