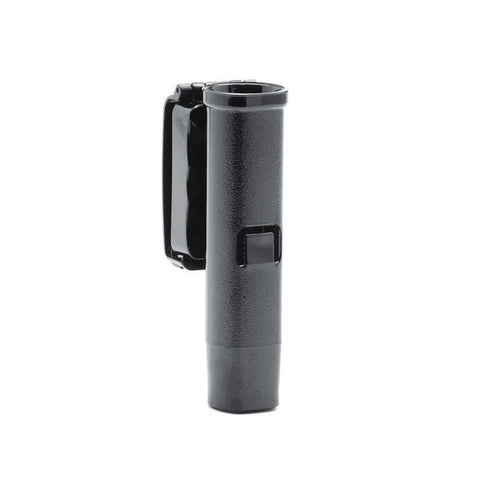 Monadnock Front Draw® 360° Swivel Clip-On Baton Holder for Classic Friction Lock Batons
MON3025
Monadnock Front Draw® 360° Swivel Clip-On Baton Holder for Classic Friction Lock Batons:
The Monadnock Autolock Baton Holder is the fits comfortably on the user, holds the baton securely, and supports a swift withdrawal. The holder is clip-on and may be attached on a waistband or duty belt. It is engineered to rotate 360 degrees and to lock in to 8 different positions. Open or closed, the Monadnock Autolock Baton Holder allows the baton to be re-holstered while locked in.
To hold the baton securely, the belt has a molded tension spring. The Monadnock Autolock Baton Holder ensures peak performance in any and every situation.
The Holder comes in a plain finish and is crafted from polycarbonate for durability.
The Monadnock Autolock Baton Holder is available in 6 different sizes: 18", 21", 22", 23", 26" and 26"LC (low carry).
SKUs- MON-3030, MON-3034, MON-3042, MON-3056, MON-3630, MON-3634, MON-3642, MON-3656
18- 1000234
21- 1000219
22- 1000224
26- 1000224
23- 1000228
26lc- 1000237
Good kit
The plastic stop flange at the end of the holster is too brittle and may snap off. This is happened to me once before, hence my purchase. Other than that it's good kit. Hence my re-purchase!
Not for S&W batons
It's a good holder. But way too tight for all S&W batons.