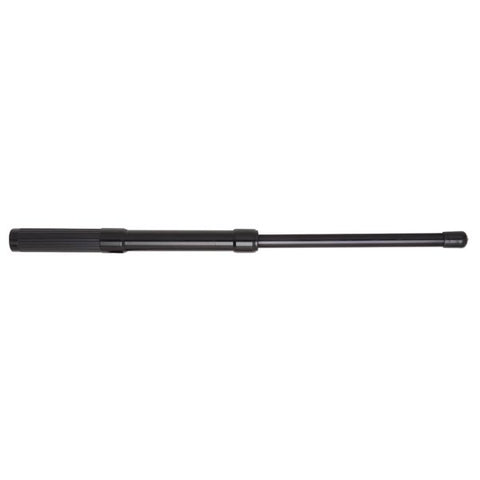 Chicago Aluminum Expandable Baton w/ABS Handle 
CHAL21
Chicago Aluminum Expandable Baton w/ABS Handle :
This 21" Expandable Baton made by Chicago Batons is made from high-grade aluminum. It features an ABS handle and expands by flicking the handle in an outward motion. Locking into place upon extension, it is only retracted by pulling the locking ring in the middle of the baton upwards toward the tip of the baton and, holding the baton vertically with the locking ring engaged, the locking mechanism will release and the shaft will retract into the baton thus closing it. This high impact weapon is a heavier gauge than most traditional friction locking batons and features a texturized rubber grip to prevent slippage in adverse conditions.
Part Number: CHAL21
Length: 21"
Weight: 18 oz.
Material: Aluminum w/ Rubber Grip
Color: Black
broken
would not close after retracting the first time ,.its junk save your money and buy the real one
Nice baton, if a bit bulky...
Picked this up to carry on my belt for personal defense. It is very solid, and is extremely comfortable in hand. I also picked up a belt loop holster to carry it on my belt. I find it to be a bit more bulky than I would like, being about a foot in length collapsed.
Perfect
Nice weight, easy open and close, well made... Great purchase!
Very Pleased
I bought this one as a gift..however, I am going to keep it for my use!! Great item!