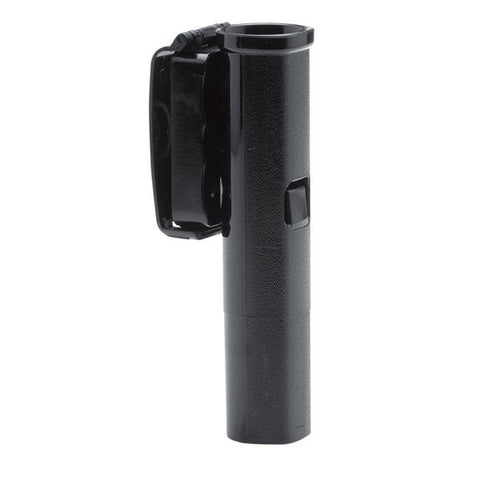 Monadnock Baton Holder AutoLock® w/ 360° Swivel, Clip-On
MON3042
Monadnock Baton Holder AutoLock® w/ 360° Swivel, Clip-On:
The Monadnock Autolock Baton Holder is the fits comfortably on the user, holds the baton securely, and supports a swift withdrawal. The holder is clip-on and may be attached on a waistband or duty belt. It is engineered to rotate 360 degrees and to lock in to 8 different positions. Open or closed, the Monadnock Autolock Baton Holder allows the baton to be re-holstered while locked in.
To hold the baton securely, the belt has a molded tension spring. The Monadnock Autolock Baton Holder ensures peak performance in any and every situation.
The Holder comes in a plain finish and is crafted from polycarbonate for durability.
The Monadnock Autolock Baton Holder is available in 6 different sizes: 18 in, 21 in, 22 in, 23 in, and 26 in

GREAT BATON HOLDER
EXCELLENT PRODUCT FOR THE PRICE. LOOKS GOOD FEELS GREAT.
Solid Holster But Belt Clip Needs Work
Baton holster provides a good balance between snugly securing the baton and allowing quick extraction. Rubber section to be inserted in the belt clip was not cut straight on one end. Had to trim it for it to fit inside the clip housing. Also the molded plastic circle around the retainer screw that attaches the belt clip to the holster leaves an indentation in your belt. Not an issue for a duty belt, but not good for a civilian pants belt. So I poked a hole in the clip's rubber strip for the retainer screw to fit through and mounted the rubber strip on the other side of the belt retainer clip. Rubber strip ends bow out now but at least the clip doesn't dig into my pants belt.
Quality product
This is a sturdy, high quality product. Everything I expected.
Works wonders. Great product. 5 stars all the way
Stupid waste of money
Read on: This baton holster is great. Excellent retention, ease of drawing baton also excellent. WORST, most stupid designed belt attachment that could possibly be. Cheap, flimsy, sticks out about 2" from your belt. Idk maybe screw the mount into your seat and it would be grease but what a POS to put on your body.