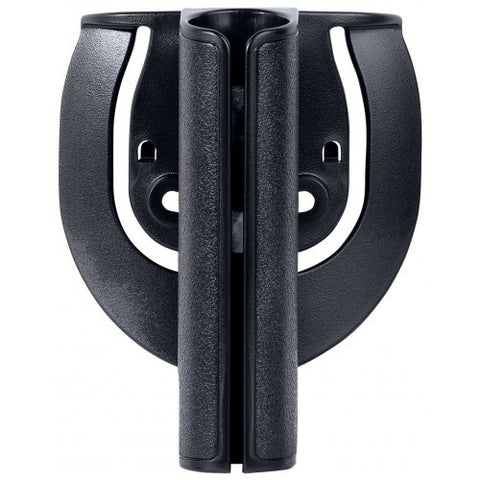 ASP SideBreak Baton Scabbard - Paddle
ASP52236
ASP SideBreak Baton Scabbard - Paddle:
An ASP Baton is an essential piece of equipment for Law Enforcement and Security Professionals alike. To properly secure an ASP baton and maximize presentation speed, a proper Scabbard is vital. The ASP Sidebreak Paddle Scabbard is just that. The ASP Sidebreak scabbard fits ASP Friction Loc & Sentry batons. The ASP Talon Baton is has a larger diameter and will not fit in this scabbard.

The ASP Sidebreak Paddle Scabbard perfectly balances baton protection and withdrawal speed. In the Sidebreak Scabbard, the Baton is firmly retained at all times, whether it be transported or during confrontation. The baton can also be accessed instantly for rapid presentation.

The maneuverability of the ASP Sidebreak Paddle Scabbard is a key feature. The Scabbard can be locked onto the Duty belt, or moved to 12 different positions. The retracted batons can be presented showing outside of the scabbard. The ASP Sidebreak Paddle Scabbard also has a compact, sleek design.

The ASP Sidebreak Paddle Scabbard is made in 3 sizes compatible with ASP batons; The 16 inch, the 21 inch, and the 26 inch. It comes in black.

Not compatible with ASP Talon Batons
ASP Brand
ASP means quality and this scabbard is no exception.
Best price and super fast shipping via USPS.
It is probably not intended for duty belts but rather for civillian dress ( normal belt or no belt ).
Very pleased with the quality and ease of use.
Not all that impressive
Leaves a lot of room for improvement. Holds the baton just fine but doesn't impress me much in solidity or rigidity attached to a duty belt. I would try something different. This was not much of a usable accessory for me. This does not mean others would not feel the same way. Just a personal preference and I feel it needs a lot more to it for the cost. Pretty much it will just sit on my table to have a place to stow the baton. Sorry, just my honest opinion.
Quality
Expensive because you get what you pay for.